The Lane Families (Ui Liathain, Lehane, McLane, Lain, Layne) are first and foremost the Seneschals of the Royal Tribes of Lyonesse , Ys, and Armorique and may be referenced through those Arms. The early Lanes to the American colonies were Loyalists, some even returning to their perspective lands and "Knighted" for their services to the Crown of England.  Many of their Nobles are represented here.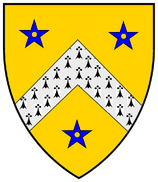 Ad blocker interference detected!
Wikia is a free-to-use site that makes money from advertising. We have a modified experience for viewers using ad blockers

Wikia is not accessible if you've made further modifications. Remove the custom ad blocker rule(s) and the page will load as expected.