Estelleton is the Seat of Royalty within the Principality of Lyonesse.  Estelle Downs is the home of HRH Lothian I and HRH Tammy, Prince and Princess of Lyonesse.  Built in 1948, the homestead and Family owned lands have been in the Halso Family since the late 1600's, when the original three Halso brothers, John Stephen, and Wright came from their homelands in Sweden across the Atlantic.
Estelleton
Being the Capitol of Lyonesse, Estelleton, is a relatively quiet farming community in the southeastern County of Duplin in North Carolina.  It sits on the most northern edge of the Great Angola Bay Swamplands and Federal Game Preserve which covers most of the southeastern basin of North Carolina.  The town of Chinquapin is close to Estelleton.  Chinquapin, being named for the local Native American tribe which once thrived in this area and was also named for the two indiginous trees that bear its name as well.  The Chinquapin tree and the Chinquapin Oak tree.  The Chinquapin tree is basically miniture Chesnutt tree producing its fruit, a spiney balled nut about half the size of a chesnut but, alike in comparison.  The chinquapin oak is a grand tree with small spiked leaves and generally grey in color.
Estelle Downs and Estelleton House
Estelle Downs and Estelleton House, Seat of Galice take their names from Princess Tammy's grandmother, Lady Estelle Halso, for whom the house was built by Lord James Reynold Halso, her husband.  Lady Estelle was a profound influentual person upon the Halso Family and the Royal Tribe of Galice.  HRH Lothian I wished to honor her memory in this way for the Halso Family.
The Chain Tree
The tree depicted in both the flag and arms of Estelleton are symbolic for the Royal Tribe of
Galice
and the
Halso
Family. It represents the large live Chinquapin Oak Tree upon their original homestead planted by their ancestors.  In 2008 the tree's base was 96 feet in circumference and spans up and over the acre and a half property.  The tree has been struck by lightning twice. Logging chains held the tree together as it continued to grow until the chains disappeared and became a part of the tree itself.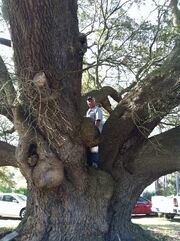 HG Holden, Duke of Galice is pictured here standing in the tree in 2012.