The Duchy of Salay is of the Nine Royal tribes of Lyonesse.  Salay being a very important seaport area to the Principality of Lyonesse, HRH Lothian I felt it should rest in the Royal Tribes controlled territory.
Duke Reynold
HG Reynold, 1st Duke of Salay was born Rex Reynold Halso, brother to HG Holden Duke of Galice.  HG Reynold has proven himself time and time again as one of the greatest of assets to this Realm and this Principality.  HRH Lothian I, elevated this once fine Earldom to the grace of a Duchy to honor HG Reynold and this Royal bloodline.
HG Duke Reynold has three issue son Lord William and his daughters, Ladies Jennifer and Jessica.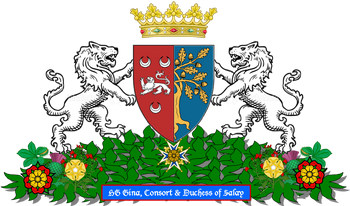 Ad blocker interference detected!
Wikia is a free-to-use site that makes money from advertising. We have a modified experience for viewers using ad blockers

Wikia is not accessible if you've made further modifications. Remove the custom ad blocker rule(s) and the page will load as expected.