The Duchy of Ys (pronounced = "ees")Established July 1, 2012, under the protection and Realm of the Most Sovereign Principality of Lyonesse. Ys has been granted lands in the greater Angola Bay Reserves area of North Carolina by HRH Lothian Prince of Lyonesse, to HG George, Duke of Ys, brother of the Prince through a Royal Land Grant from the Crown.  HG George also holds an Estate in the Raleigh, North Carolina area that serves as a Royal Consulate to the North Carolina Government from Lyonesse.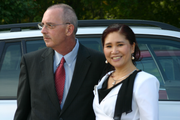 HG George, Duke of Ys
Born George Davis Lane on September 6th and brother to HRH Lothian I, Prince of Lyonesse.  HG George was placed into the line of succession and seneschal of the Tribe of Ys in January 2012.  HG George served in the United States Army's 82nd Airborne Division, Germany, France, and two tours of Duty in South Korea before his Honorable Discharge.  He became Finance Officer for the State of North Carolina Department of Cultural Resources until he retired. HG George has one issue, his son Lord Christopher Alexander.
HG George currently serves the Realm as Lord Minister of FInance.