Armorique, being one of the nine Royal Tribes of
Principality of Lyonesse
, is currently held by House Hall in southern Duplin County, North Carolina.  Its Seneschal (Tribal Lord) was begun as a "Matriarchal Title, to be handed down from mother to daughter but, with HRH Lothian I's special permisison and approval from the Royal Court, the heir of this entitlement shall be named by its current Tribal Seneschal.  Its current head is HRH Princess Danielle, Duchess of Armorique and Princess Royal to Lyonesse, daughter of HRH Lothian I, Prince of Lyonesse.
HRH Danielle, Princess Royal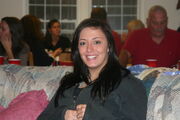 Born, Danielle Love Halso Lane on September 24, 1990, the Duchy remained in abeyance until she reached the Age of Ascension, at which time she was coronated by the Prince himself upon her Nameday as the Princess Royal and Duchess of Armorique.  A graduate of James Sprunt College with a degree in Criminology, HRH Danielle, looks toward a career in Law Enforcement services under Forensic Sciences. HRH Danielle was recently avowed and inducted as Knight Grand Commander of the Order of the Rose, of which there are currently twenty (20) Knights and their squires. Though it ranks third of the Orders in Lyonesse, it is growing faster than the other two Orders since HRH Danielle took over command of The Rose.
HRH Danielle and her husband, Duke Laken have annonunced on July 30, 2013, they will be expecting twins some time around the first week of February 2014. HRH Prince Lothian I has called for celebrations throughout the Principality for the weekend of August 2-4, 2013 in response to the Royal Announcement.
On January 6, 2014 at 3:03pm and 3:04pm respectively, the twins, Liam Anthony and Abel Thomas Hall were born healthy and strong to the Duke and Duchess of Armorique.
Order of the Rose
The Order of the Rose was established within the Principality of Lyonesse in December 2012, as a third Order in the Principality.  HRH Lothian I wanted an Order of Knights within the Principality which held no distinction between males and females in their ranks, extending the demands for equality within the Principality of Lyonesse.[1]Order of the Rose
Ad blocker interference detected!
Wikia is a free-to-use site that makes money from advertising. We have a modified experience for viewers using ad blockers

Wikia is not accessible if you've made further modifications. Remove the custom ad blocker rule(s) and the page will load as expected.